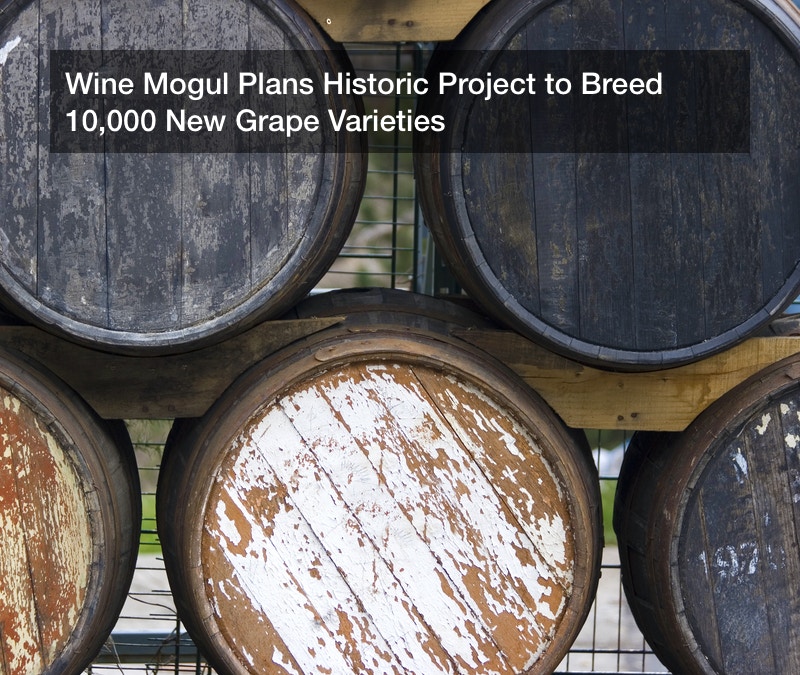 Wine Mogul Plans Historic Project to Breed 10,000 New Grape Varieties

Randall Grahm has spent the majority of his life in the wine industry. He started sweeping the floors of the Wine Merchant in Beverly Hills when he was still a student at UC Santa Cruz and started his own vineyard in Bonny Doon soon after finishing school. The man that since became known for his work with Rhone varietals has started work on something new: Popelouchum — The Project, according to an article in Forbes and his own press release.
After his success with Rhone and helping to popularize screw caps for premium wine bottles, Grahm is attempting a new innovative strategy to influence the wine industry yet again. His latest project, which has been crowdfunded, is an attempt to breed 10,000 new wine varieties, or as he puts it a "New World grand cru." But even that's not the entire extent of it.
"The project potentially has a much larger utility to the world, above and beyond my needs. The problems that I have to solve — how to grow grapes in a truly sustainable fashion with constrained resources, especially water — are essentially the same problems that perhaps most of the planet will have to confront sooner or later," Grahm said. "And how might a vineyardist do something truly unique that was not a pallid imitation of a brighter paradigm? If the methodology of super-heterodox plantation works, maybe others could adopt the methodology and arrive at their own unique style of wine."
Along with creating a unique new wine, Grahm is attempting to answer the greater question of how future winemakers will grow grapes in California's rapidly changing climate. He plans on using 35 parent seed varieties to start cross breeding in the hopes that he'll find new combinations of color, flavor, texture, disease resistance, and, perhaps most importantly, drought resistance.
There's no real significance to the 10,000 number except that "10,000 things" means something vast in Chinese. Quite fitting considering his plan is to plant 20 acres of unique varieties with a planting density of about 500 vines per acre.
"Potentially, over time, creating such a vast number of grapes might well reveal a few that are utterly brilliant. But in the shorter term, the intention is to observe what a very large set of genetically distinctive vines do when they are harvested and fermented en masse."
Only time will tell whether or not they produce the results he's hoping for. But for the man who's spent his life in the wine world, this could be his greatest winemaking contribution yet.
"Innovation drives growth in every business – and today experimentation with technology drives innovation," says Tom Ajello, Founder, Makeable. "The wine industry, with a core constituency largely made of traditionalists, has been resistant to change leaving the business starving for innovation. I'm excited to see where this goes."