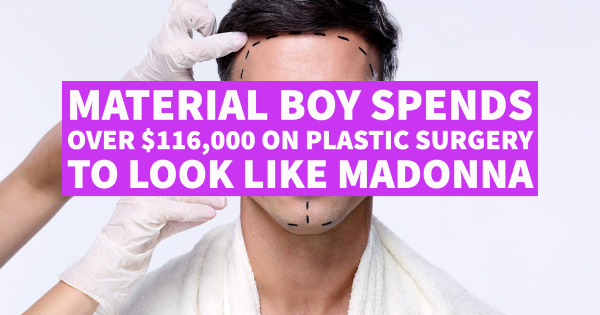 Material Boy Spends Over $116,000 on Plastic Surgery to Look Like Madonna

UPDATED 12/23/20
It's often been said that imitation is the highest form of flattery — but is it possible to go overboard?
Madonna super fan Adam Guerra doesn't think so. In fact, he spent over $116,000 on plastic surgery and another $100,000 on clothing, accessories, and makeup in order to become the spitting image of the Material Girl.
"I've had my cheeks done, my jaw done, my chin done," Guerra explained while featured on the TLC docu-series, My Strange Addiction. "I've had Botox. I mean, half of my face is fake."
While some say all of Guerra's plastic surgery has helped — or is required by — his career as a professional Madonna impersonator, his boyfriend Michael feels Guerra's obsession both with plastic surgery and Madonna is unhealthy and has hurt their relationship. "I want to date a boy," said Michael. "I don't want to date a 56-year-old woman."
Michael is also concerned that Guerra, who has had almost 20 major cosmetic procedures thus far with plans for more, may eventually slip into a coma and die from having been under anesthesia for so long and so often.
Guerra, who currently lives in Los Angeles, agrees that his passion for plastic surgery and quest to become as Madonna-like as possible has caused many frequent arguments with his boyfriend. He has no intentions of slowing down, however. "Michael's doing his best to accept it because I've already made it clear that I'm not stopping," Adam said.
Next on the list for Guerra? Butt implants to match Madonna's toned glutes.
Believe it or not, Guerra isn't the only fan to spend copious amounts of money in order to look like their celebrity idols.
In December 2014, a 23-year-old British makeup artist made international headlines after he reportedly spent over $150,000 on more than 50 cosmetic procedures to look like Kim Kardashian.
James Parke underwent liposuction, laser hair removal, eyebrow tattoos, and several rounds of Botox and injectable filler treatments in order to look as much like the reality star as possible.
After watching an episode of "Keeping Up With the Kardashians," Parke fell in love with Kim's personality and appearance. "I love everything about Kim," said Jordan. "She's the most gorgeous woman ever. Her skin is perfect, her hair, everything about her."
Parke's idol, on the other hand, continues to vehemently deny allegations that she has had liposuction, and butt and breast augmentation, though she openly admits to undergoing non-surgical anti-aging procedures such laser and chemical peels.
"The obsession over plastic surgery is dangerous. Multiple, repeated surgeries to an area can only result in excessive scarring, diminished result, and delayed healing," says Dr. Anh Ngo, Medical Director at Body Envi. "As surgeons, sometimes we do need to say NO to patients as their advocate. Too much plastic surgery not increases likelihood for negative outcome physically but also can be detrimental psychologically."
A cosmetic face lift is generally not intended to turn someone into a film or recording star, but rather to give the recipient a younger and healthier appearance. The procedure is generally seen as a type of surgery to remove wrinkles. However, there are actually different varieties of face lift surgery.
Those who suffer from wrinkles resulting from skin disorders, excessive exposure to the sun simply to aging, can often benefit from skin resurfacing. This technique may employ chemical peels or products that are injected into the skin. A chin lift procedure is another type of cosmetic surgery that targets excessive fat and skin in that area of the body. More extensive forms of face lift surgery may utilize implants that can change the contour of such areas as the jaw and the cheeks. "Mini" face lifts are an alternative to more traditional methods in cases where the problem is less extensive.
The average price of face lift in the United States is between $7,000 and $12,000. This can be a good investment by the way face lifts make men and women look better and feel better about the way they look.
Related:
15 beautiful child stars who totally ruined their faces, actors plastic surgery gone bad, actors surgery, actress after plastic surgery, actress after surgery, actress botched plastic surgery, actress facelift, actress who did breast surgery, actress who underwent plastic surgery, actress with too much plastic surgery, actresses and plastic surgery, agt courtney hayden live performance, bad plastic surgery pics, best hollywood plastic surgery, botched plastic surgery breast implants, celebrity liposuction photos, celebrity liposuction scars, celebs with tummy tucks, did james charles have plastic surgery, jada pinkett face surgery, judge judy has she had plastic surgery.