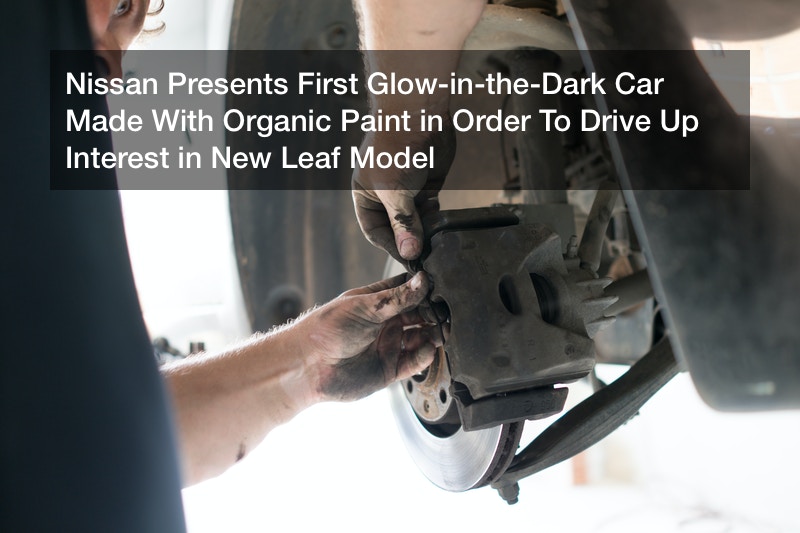 Nissan Presents First Glow-in-the-Dark Car Made With Organic Paint in Order To Drive Up Interest in New Leaf Model

UPDATED 10/22/20
Glow-in-the-dark cars: They sound like something dreamed up by a child who can't decide if being an astronaut or a race car driver would be more fun. But Nissan recently proved that this aesthetic feature might actually become a reality for the average (adult) car owner.
Although consumers shouldn't expect to see glow-in-the-dark vehicles hitting the markets right away, Nissan recently released news (and pictures) of its newest Leaf model, all decked out in special paint that glows at night.
According to PC Magazine, glow-in-the-dark car wraps are already available for many newer vehicles, but Nissan is the first car manufacturer to develop a paint made completely from organic materials. Even the prime "glowing" ingredient, Strontium Aluminate, is a natural (and very rare) substance found naturally in the earth.
CNN Money notes that this special release is merely for publicity purposes; as it is, the special paint would be incredibly expensive, and Nissan has clearly stated that it has no intention of making the paint commercially available on its cars in the near future.
Instead, the company is hoping that the glowing car, which emits a soft blue light for eight to 10 hours when fully "charged" with sunlight, will "promote the potential for charging the Nissan Leaf at home using solar panels."
According to Nissan officials, if government incentives are offered on these at-home charging solar panels, driving a rechargeable car (like the Leaf) would be "virtually free of cost."
But even though consumers can't get their hands on a glow-in-the-dark Leaf just yet, automotive experts are already getting excited about Nissan's second-generation 2017 Leaf. It's expected that Nissan will debut the new model at the Washington, D.C. Auto Show in January 2016 or the New York International Auto Show in April 2016, and the car will likely be available in commercial markets around October 2016.
Nissan hasn't offered many official statements about the new model, Hybrid Cars states, but the success of Nissan's first-edition Leaf has surprised everyone from consumers to industry experts.
Global sales of the Leaf rose up to about 160,000 vehicles by the end of 2014, and U.S. sales made up about 75,000 of those vehicles. Currently, the Nissan Leaf is the best-selling electric car — beating both the Chevy Volt and Tesla Model 3 in terms of affordability and eco-friendliness.
"The absolute best feature of the Leaf is that it's a total electric car that you never have to worry about gas or even getting an oil change," says Steve Black, Digital Sales Director, Hudiburg Nissan. "We're excited about the 2nd edition that will be coming out and feel that it's really going to impact the overall electric car market. "
Even if the second generation Leaf doesn't glow-in-the-dark, the fact that industry experts are already talking about the new model is proof that Nissan will surely provide plenty of interesting features in the 2017 model.
Getting a local car loan can help a lot of people afford new vehicles. Every 2020 auto price will vary, but thanks to these auto loan opportunities, it should be easier for people to find 2020 vehicle prices that will really work for them. They can read 2020 new car reviews as part of the process, so they'll make more informed decisions as customers.
There are many advantages associated with purchasing vehicles towards the end of a given year. The vehicles that were already introduced earlier in the year have already been tested by a lot of different customers. Many individuals have already written reviews. It's easierandnbsp;to find information on all of the vehicles that were released throughout 2020 now than it would have been several months ago.
There are also plenty of unique sales that are specifically available when the year is over or almost over, which can help plenty of customers. Car manufacturers know that a vehicle that was produced in a given year will always be more valuable in that year than at any other time. The people who visit any 2020 Ford dealership now can get high-quality vehicles at a reduced rate, and they only had to wait a few months to do so.andnbsp;
More Topics: cool glowing cars, paint that absorbs light and glows at night, glow in the dark car.