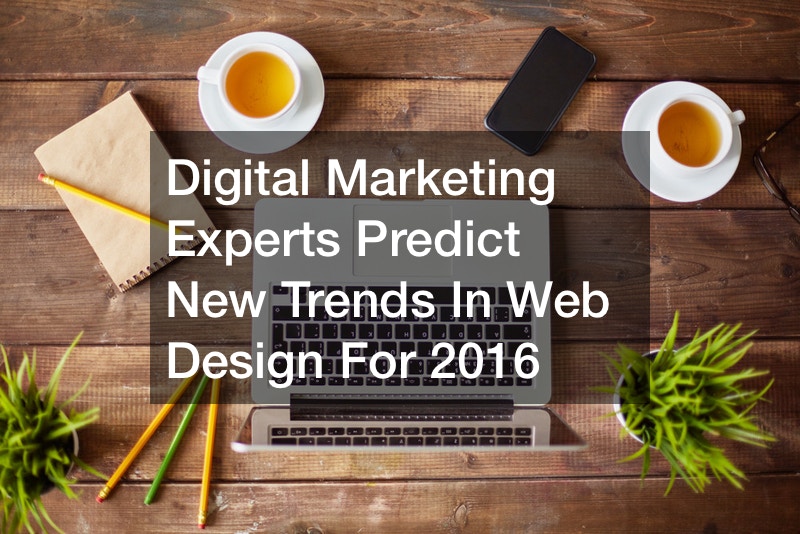 Digital Marketing Experts Predict New Trends in Web Design for 2016

If you want to know all you need to know about marketing, you need to include digital marketing in that strategy as well. Even if most of your business is done in person, you're going to have potential customers looking online for services. By building a digital strategy, you'll be able to put yourself and your business in front of them right when they're looking for someone like you. Without a digital marketing plan, you risk losing access to a massive number of customers.
However, marketing your business online takes training and skill. You can do some of it yourself, even if you're new to it. There are many resources offering help on business marketing for beginners. These resources can be very useful. But if you feel like your time would be better spent focusing on other aspects of your business, you can also hire certified digital marketing specialist to help you. These experts are trained in digital marketing and can set up campaigns and advertising that will appeal to your ideal customer. While you'll need to pay for their services, it is a solid investment in your business.
Web design is one of the most fluid components of digital marketing, and experts are now trying to predict how (and if) the industry will see any changes during 2016.
According to Business2Community, web designers are weighing the pros and cons of several web design trends that emerged in 2015 to develop a proactive strategy for the coming year.
Several trends are expected to change drastically, while others may be completely phased out due to poor response from web users. One trend in particular that many expect to become obsolete is long-form scrolling.
Long-form scrolling essentially eliminates one step (creating different homepage menus) from the web design process, making it popular among web designers. However, consumers have been known to grow weary of scrolling for more than a few drags of the thumb, which makes this practice something to avoid in 2016.
Another popular web design trend that is expected to disappear is photos with built-in text that bring users to other pages on the website. While this also helps to consolidate pages on a website, it often confuses users who expect to find all of their information via navigation menus, as opposed to embedded links.
Website design trends are constantly evolving, and there is no single "correct way" to design a web page. Professional web design companies constantly upgrade their practices to best serve clients, which is why so many major companies utilize their services.
"The opportunities for people to do their own web design are more plentiful than ever. However, it is important for people and brands to consider the tremendous value added by professional web designers," said Colby Richards, Managing Partner with Brown Box Branding Seattle. "Doing the work on a daily basis and having the ability to measure the effectiveness of various designs puts the pros in a strong position to help avoid costly pitfalls that may actually harm a brand."
It seems as though 2016 will bring about widespread change in the world of web design, but experts also believe that some trends will remain unchanged this year.
According to FastCoDesign, web users will continue to see a heavier emphasis on mobile optimization in 2016. It seems as if everyone now has a smartphone, and companies have been making changes to accommodate mobile users for the past several years.
Additionally, experts also predict that the recent trend of creating eye-catching illustrations for websites will hold strong this year. Instead of using stock photos, more web designers are using their artistic chops to give websites a more unique appeal.
It remains to be seen how different web design will look towards the end of 2016, but it's safe to say that some distinct changes are on the horizon for many web designers.